Home

/

Probing and Analysis Adapters

/

BGA Probing Systems (Carrier Adapters)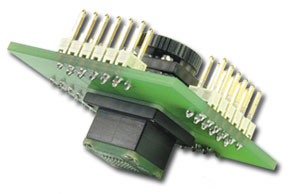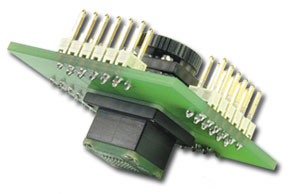 CSP BGA Probing Systems
Pictured is one of our ground breaking 0.75mm pitch BGA probing adapters. This adapter incorporates one of our own GHz BGA sockets.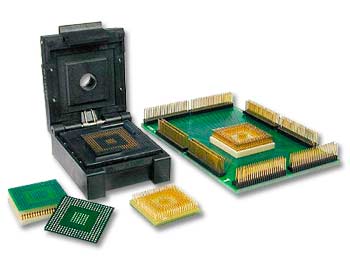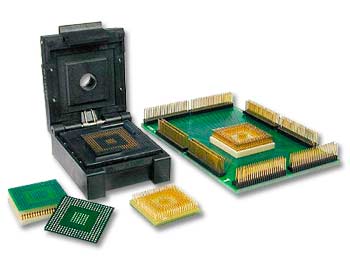 Modular BGA Probing Systems
Most of our BGA probing systems are modular and are called "carrier adapters". Typically, a carrier adaptor system uses a BGA emulator base adaptor, a probe board, and a choice of socket interfaces ranging from an SMT "land socket" to an industry standard ZIF socket.
The drawing to the right indicates some of the possibile configurations of our modular BGA probing system. The pluggable connections are gold plated throughout.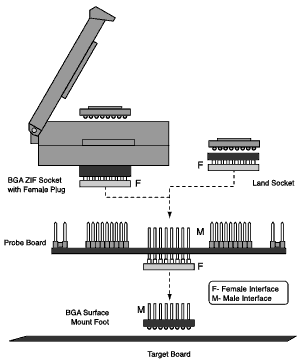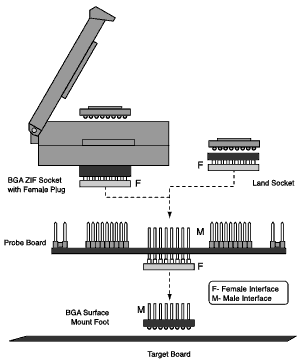 A suggested part selection process:
1. Using the Advanced Search Menu feature on the top, search by "Probing & Analysis Adapter", entering "BGA", pitch, and pin count.
2. In the resulting table, click individual part number to see the drawings.
3. The probe board (PB) part entry lists all of the parts compatible for this package.
4. Individually select the desired components (including the probe board) and add to the Shopping Cart.
5. When ready, "Check Out".
Component Descriptions
---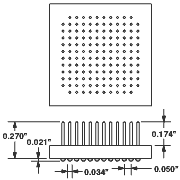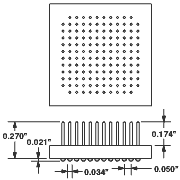 Surface Mount Feet (SM)
Our BGA surface mount "feet" are easily soldered to the target system and present a pluggable interface to the other parts in the modular BGA probing system. Select here for a complete description of our surface mount package emulation capbilities.
---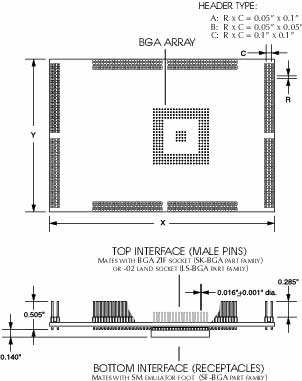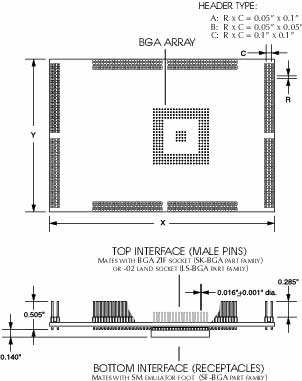 Probe Boards (PB)
The headers, or test points, on our probe boards come in three spacings, which is indicated by a letter (A, B, or C) in the part number.
The typical probe board presents an upper interface that accepts an industry standard ZIF socket or one of our compatible land sockets.
The bottom interface on the typical probe board plugs into a compatible surface mount foot part.
---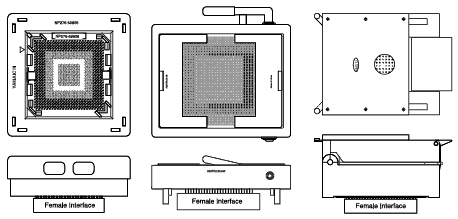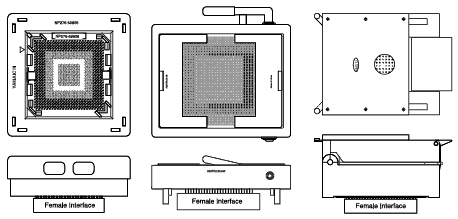 ZIF Sockets (SK)
We use industry standard BGA ZIF sockets, in open top (OT), open top with lever (OTL), or clam shell (CS) variations. For more information, email info@ironwoodelectronics.com
---


BGA Land Sockets (LS)
Our BGA land sockets provide surface mount lands for an IC device. The bottom interface is a female pluggable interface that can plug into compatible surface mount feet or probe boards. Select here for a complete description BGA land sockets. For more information, email info@ironwoodelectronics.com