Home

/

Probing and Analysis Adapters

/

Emulator Adapters
In-circuit Emulator Support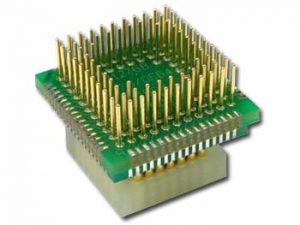 When an emulator pod cannot plug directly into the system being developed, the most common incompatibility issues are space and height restrictions. Often, incompatibility between the emulator pod head and the actual target device is also a concern.
Many of the emulator adapters in our catalog are similar to the picture shown on the right. The adapter is surface mounted to the target board and presents an emulator specific interface to the pod head.
A modular approach is often more desirable because it allows the developer to test the target system in place while switching between the emulator and the actual IC device.
Ironwood's product line provides convenient, yet highly reliable connections to in-circuit emulators:
We have employed rigid-flex material for some custom applications. If you cannot find an emulator adapter system that meets your needs, please call us: 800-404-0204
An Example Modular Application
This drawing illustrates a modular emulator adaptor solution. At the top is a PGA emulator pod head. Using a PGA male/male socket, the pod plugs into a PGA to MGA package converter, which is in turn connected to an extender. The extender then plugs into a surface mounted "foot" or "package emulator base"".
The modular approach also allows for incorporating probe boards and sockets.