Wear Resistant Etched Spring Pin Sockets (HBT)
Home

/

Wear Resistant Etched Spring Pin Sockets (HBT)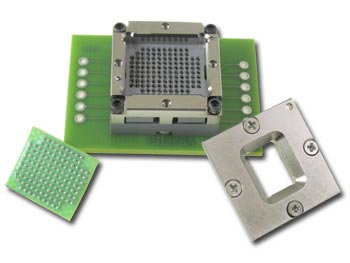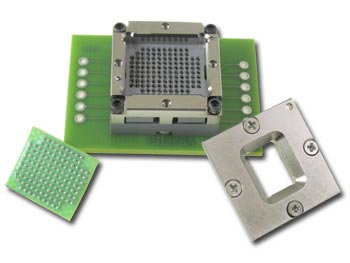 Contact technology has 3 parts system. Etched top plunger (unique proprietary alloy with no plating enables longer tip life & less cleaning), etched bottom plunger (standard BeCu with gold plating) and assembled to a gold plated stainless steel spring to enable reliable interconnect solution with less ATE downtime.
Etched top plunger is made of an alloy based material that requires no plating and features high hardness of 600 Knoop (similar to high carbon steel). Because of its high strength, HBT tip resists deformation and wear typically generated by cleaning cycles and ATE testing. Typical degradation in ATE test involves wear in gold plating causing it to expose base/intermediary material that results in high resistance path. As HBT is non-plated, it can be repeatedly cleaned providing unprecedented probe life. Contact resistance and RF behavior are equal to probes that are gold plated BeCu. HBT also resists Sn/Ag/Pb oxides similar to gold, yielding performance that will not degrade even in the most stringent environments.
The part selection table (https://www.ironwoodelectronics.com/products/stamped-spring-pin-sockets/) shows our standard sockets using SBT probes. HBT probes can be a drop-in replacement for all SBT probes. Custom sockets to accommodate rectangular body shapes, odd sizes, and devices with pitches down to 0.4mm can be developed in short lead time. BGA package specifications can vary widely between manufacturers. We have found that it is most effective for us to ask customers for information about the specific device to be socketed and then provide a quote. You can fill the form with required information or call us at 1-800-404-0204.