Home

/

Probing and Analysis Adapters

/

PLCC Probing Adapters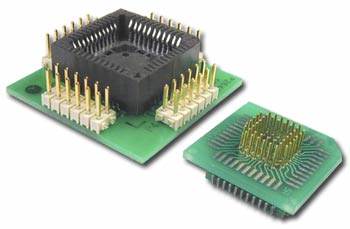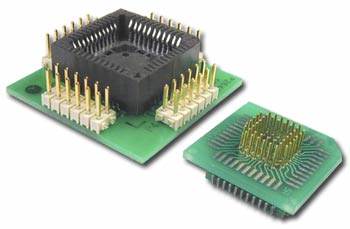 Ironwood offers several types of PLCC probing adapters, including PLCC socket probes and our unique one-piece "PLCC LoClips". Our multi-piece "Carrier Adapter" systems consist of an interchangeable PLCC emulation base and a probe board that provides test points and a socket to carry the device.
---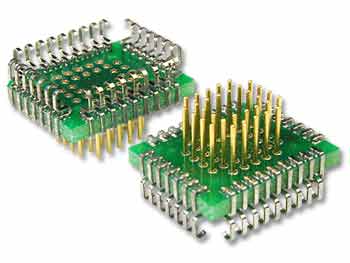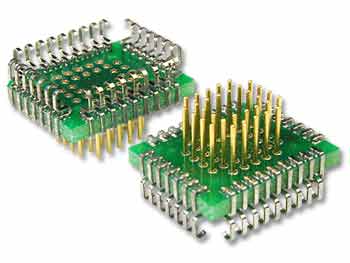 PLCC Carrier Adapters
Our two piece PLCC Carrier Adapters incorporate pluggable bases that are available in solderable J-lead, PLCC plug, or clip-on versions. ZIF or production sockets are used to house the PLCC device on the upper probe board assembly. These adapters may be ordered without test points. The picture above illustrates a PLCC carrier adapter with a plug-in base. The bottom assembly is included, but may also be ordered separately. Compatible base part numbers are listed in the part selection table. The picture at left illustrates a compatible J-lead surface mount foot. The corresponding probing adapter part will contain "-J" in the part number. Refer to the drawings below.
---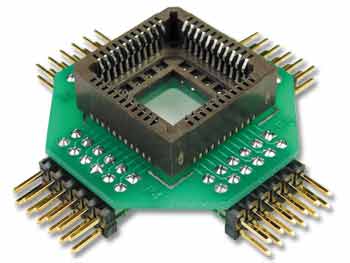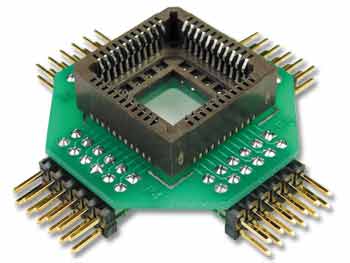 PLCC LO-CLIPS
Our unique "PLCC Lo-Clips" are easy to use, clip on probe boards. Simply plug the probe board onto a surface mounted, in-circuit PLCC device and start testing. The gold plated test points on the very low profile -02 series parts (pictured) are accessible from the side, while the -01 series present top accesssible test points.
---


PLCC Socket Probes
Our PLCC socket probing adapters plug into PLCC sockets and provide access to all signals at gold plated, 0.025″ square test points. The device being tested is housed in a production PLCC socket on the adapter.
---